Wednesday, 05.09.2018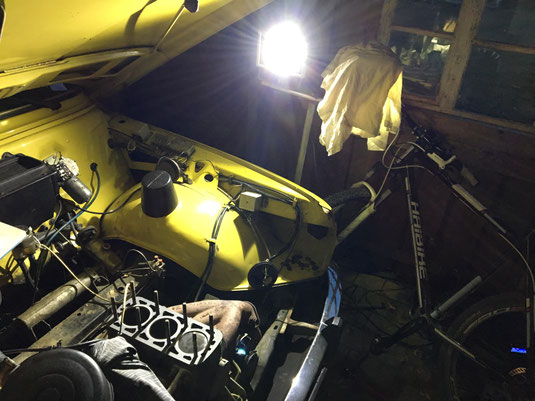 At Wednesday, the 05.09.2018 the majority of the  replacement parts finally arrived. Thus, the "treatment of the patient" could continue.
Since the evening offered some free time, the LED spotlight was used to go one step ahead on curing the patient.
By now the engine block was mostly free of the contamination caused by the old sealing. Among the spare parts was also a new cylinder head. The decision to go for a new cylinder head was made after observing the surface of the old head, which could not hold up to quality standarts anymore. Furthermore, there was no possibility to restore the old head. However, the head will not be disposed of, but stored cautiously.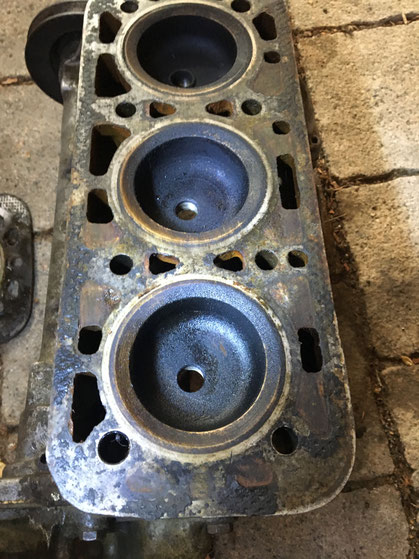 Work could finally start after carefully unwrapping all replacement parts
The new cylinder head shines wonderfully and it is immediately clear that it was regenerated. The head was, together with the sealing, carefully put on the engine block. During the tightening of the eight bolts the proper order was kept and the required torque was applied.
Once the cylinder head was in place, the cooler was mounted. Here it became apperent that the cover of the new water pump had one connector more compared to the old one. The reason is, that with the new Jikov-carburettor from 1982/1983 on (not sure about the exact point in time) a carburettor preheating was installed. Therefore, the water pump cover did not match with the water pump.
In addition, it was also not possible to mount cooling fan and pulley and an additional order of replacement parts was necessary.
Saturday, 08.09.2018
Saturday, the 08.09.2018 another delivery with replacement parts was waiting to be taken at the post office. In the morning I first went together with Jessy (Hannes' girlfriend) to her first tandem parachute jump. Afterwards, I used the time to mount all the received replacement parts in the Wartburg. Among other things all coolant hoses were replaced, a new cooling fan was mounted and a plug connector was renewed.
In addition, the cover of the water pump of the old cylinder head was mounted on the new cylinder head, which solved the problem of the redundant  connector.
What is still missing, is the V-belt pulley. Only when it will be delivered in the course of next week, we will get to now if the Warti (in the meantime dubbed "Arnold") will be running again.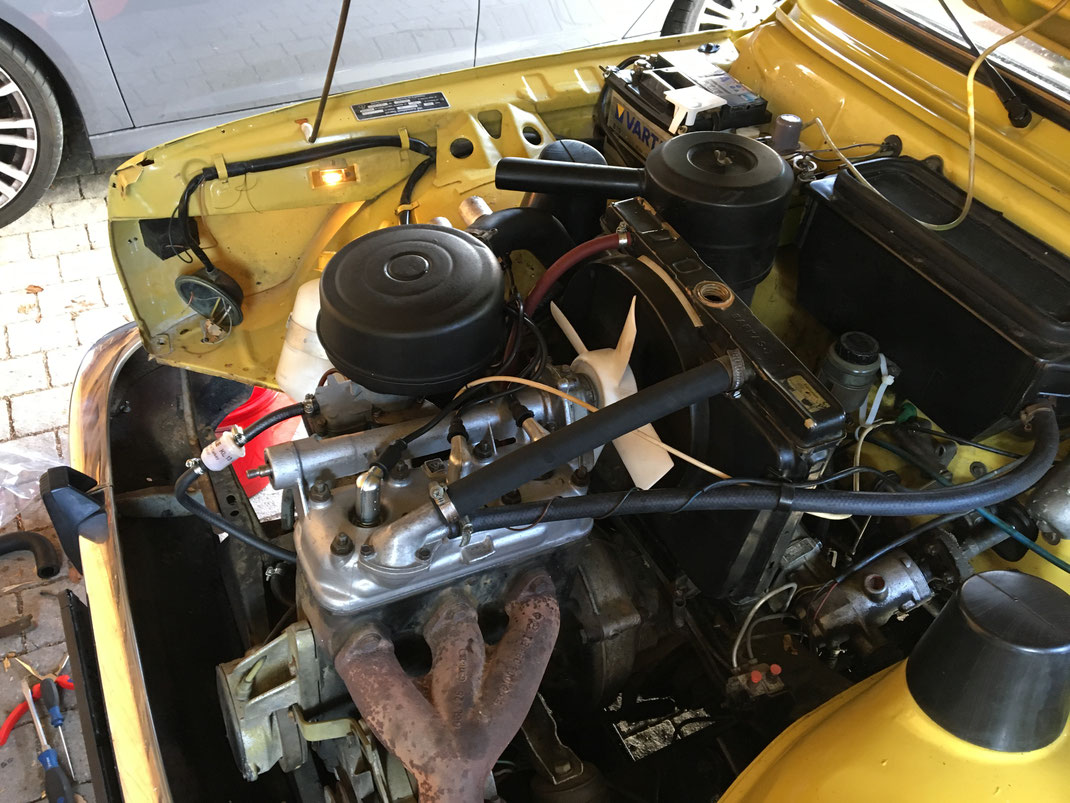 ---