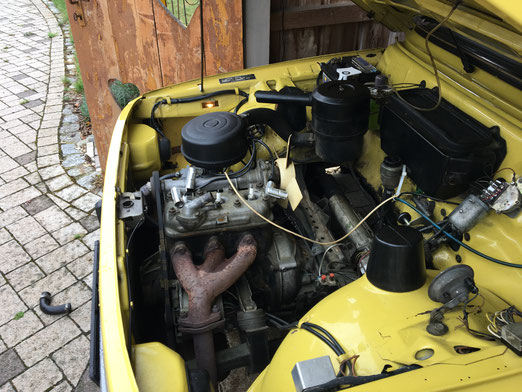 After yesterdays disilusionment was huge, something needed to be done, because it is a fact that the Warti is not running anymore.
A battle plan was needed:
What were the symptoms?
- backfires
- bad reaction of the throttle
- exhaust gas coming from the compensation tank of the cooling water
- highly contaminated cooling water (brownish and oily)
Thus the following solutions were proposed: 
- changing the cooling water
- changing the cylinder head sealing
- checking the ignition configuration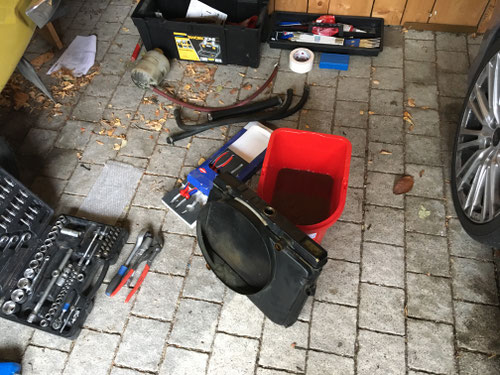 Draining the cooling water was generally simple. The only weird part was that the manual showed a draining tap which did not exist.
Thus, the cooling lid and the heater tap were opened first and the draining tap of the engine block followed afterwards. More or less 3L of water were drained here.
Since it was impossible to find a tap on the cooler, I disconnected every hose until the full cooling system was dismounted.
Due to the removal of the liquid I decided to renew all hoses and compensation tanks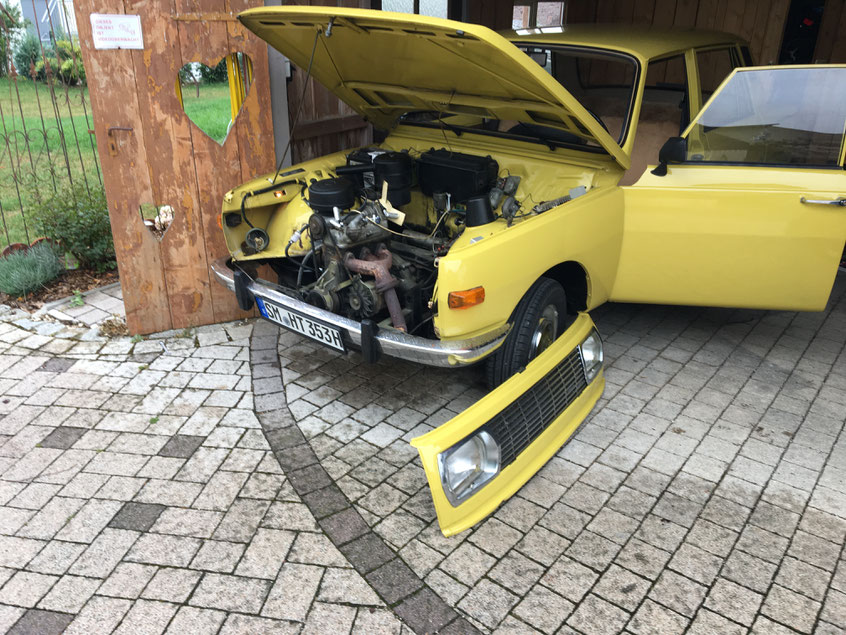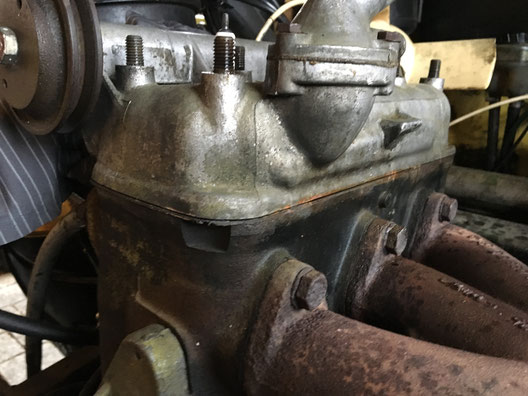 After the cooling water was drained the real fun could finally start.
After removing the front and the V-belt, it was possible to remove the deceicive eight bolts. Using a small amount of WD 40 made this a rather easy task.
What wasn't that easy was to remove the cylinder head. The bolts somehow had formed a much tighter connection with it than originally planned by the engineers. By dealing gentle blows to the cylinder head using a rubber hammer a small gap was forming.
A cylinder head is unfortunately quite fragile and thus taking advantage of the lever rule was not an option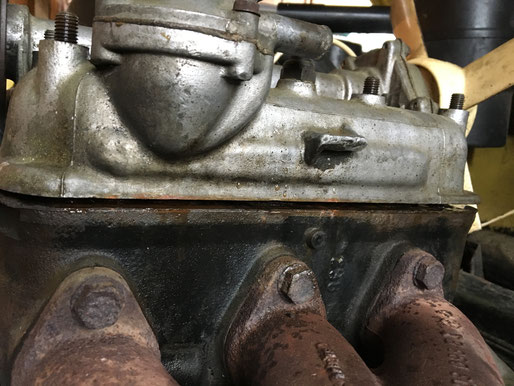 So on we go with our gentle approach to convince the cylinder head to let go.
Little by little the bird builts its nest (for the curious ones the actual German idiom would be something like: laboriously the squirrel feeds itself)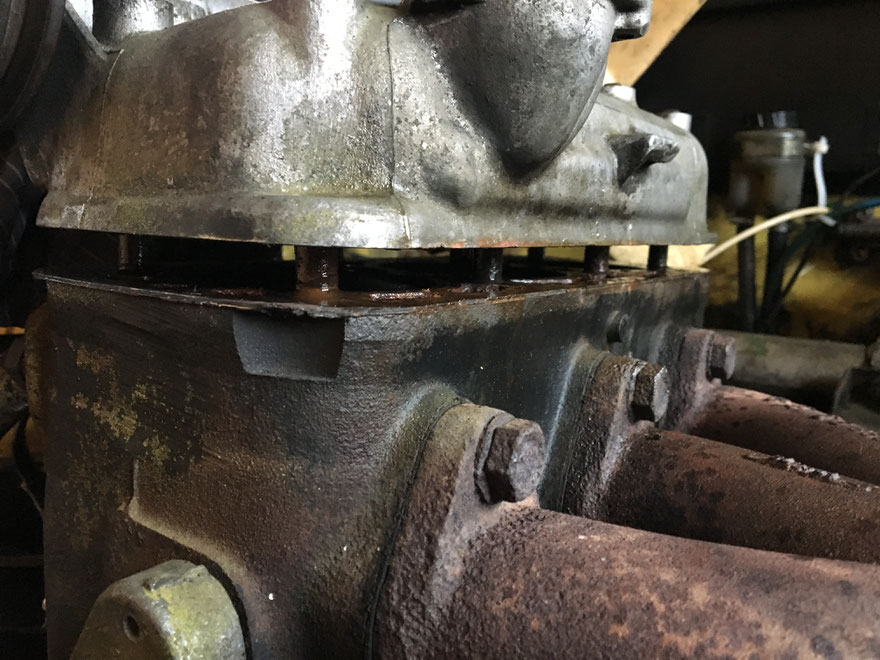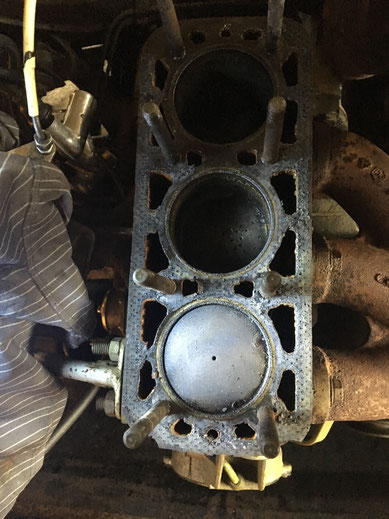 In the end even this stubborn cylinder head understood that resistance was fruitless and admitted defeat.
However, this is not the end of the story.
As you can see in the following photos, the sealing left lasting marks.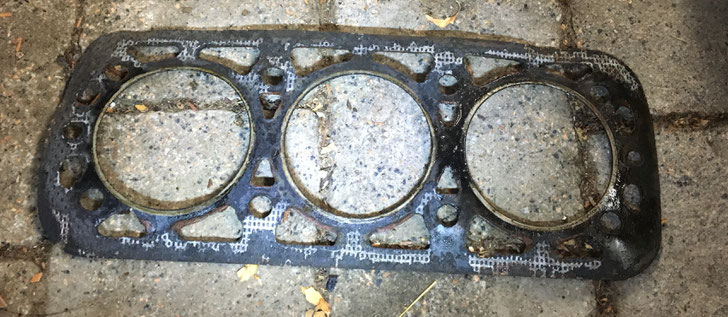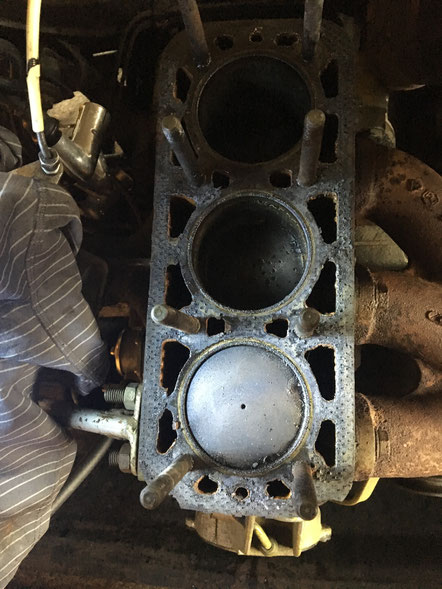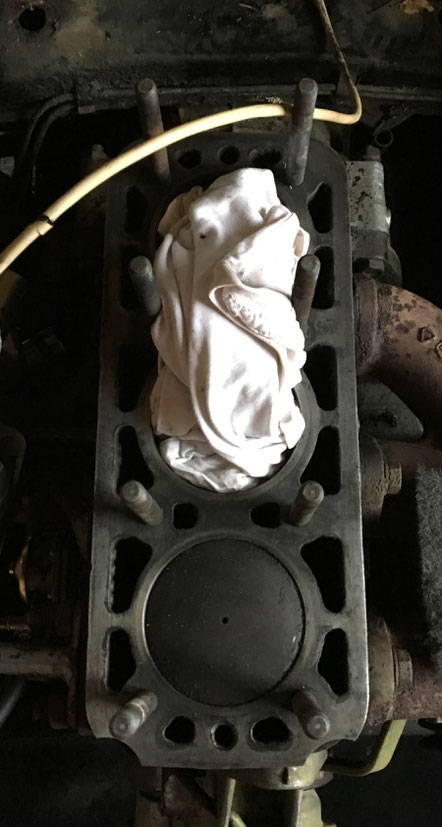 Thus cleaning, cleaning and cleaning again became the order of the day.
The final result was quite ok already, however, I am still not completely satisfied. Which means cleaning will continue next week.
Necessary replacement parts are ordered. As you can see on the photos, it was impossible to reuse the current cylinder head sealing (which you're not supposed to do anyways).
Repairs will continue as soon as the parts will be devlivered.
---